The Sky Hopper team recently  took their Engineering and Structures Demonstrator to Glasgow and wowed an audience of marine biologists at the Technology and Innovation Centre.
Our purpose was to engage with potential collaborators for first flight operations which we plan in 2019.  We made a lot of interesting contacts and proved to ourselves that a mid-mass platform has potential as a load carrier or a survey support device.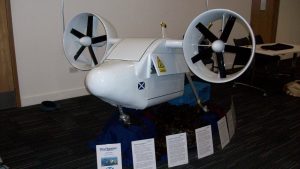 Sky Hopper ACD-200S on its stand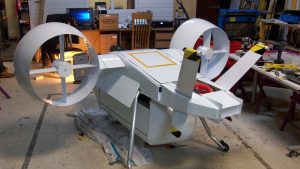 Prior to departure from our workshop
This was the first public outing of our innovative platform. As we enter the dark winter period, we continue to develop the platform. We will shortly have a fully detailed CAD model of the vehicle that can inform batch manufacturing.  We are also now engaged in the development of our electrical and avionics demonstrator.
We will be releasing 30% of the equity in the venture through this winter. Please contact us if you want to know more. 
As always we have to maintain a certain amount of confidentiality in our news. This is particularly so now that we have an actual initial vehicle system. Please accept that information on this website will inevitably be broad-brush only. If you are interested in what we are doing and are a potential investor please contact us.